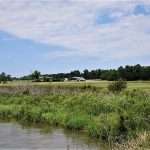 RN RANCH
PENDING SALE
1,500+/- Acres
Description:
1,500 +/- acres, Purdum, NE in Blaine County. One mile of North Loup River. New Wardcraft home. Cleary barn. Daniels corral system. Mature tree shelter belts and tree groves. Sub-irrigated hay meadows. Soler wells & windmills plus pipeline water. Pride of ownership everywhere. New custom crossfencing. Lots of extras. Mule & Whitetail deer, turkey, grouse, pheasants, ducks & geese.
Land Use:
The ranch has approximately 200 acres of subirrigated grass meadows on both sides of the river. Even in dry years the ranch puts up good hay. Average approx. 275 tons.
Location: 41053 W North Loup River Road, Purdum, NE
Headquarters is three miles east of Purdum, NE on North Loup River Road, then 1/2 mile north. Main access is by county gravel road. Access also available on west boundary from Elsmere Road.
Legal Description: All in Township 24 North, Range 25 West, Blaine County, Nebraska
N1/2 Section 3 300 Acres
N1/2, SW1/4 Section 4 480 Acres
SE1/4, S1/2 NE1/4 Section 5 240 Acres
NW1/4NE1/4, S1/2NW1/4,
NE1/4NW1/4 Section 5 160 Acres
NE1/4 Section 8 160 Acres
NW1/4 Section 9 160 Acres
Improvements: 1,882 sq. ft. Wardcraft home new in 2015 with open floor plan, 3 bedrooms, 2 baths, office, mud/utility room, patio doors to rear patio, and attached oversized 2 car garage. The home features upgrades throughout with Pella windows & patio doors, hickory cabinets, oak woodwork, solid wood doors, high efficiency heating & cooling, and much more.
New concrete septic tank with 300' leach line. Separate electric well for home.
The home is nestled behind a large tree shelter belt and offers fantastic views of the North Loup River. The property sells furnished with all the appliances, bar stools, leather living room furniture, dining room table & chairs, wood burning stove, and majority of bedroom furniture.
Barn: Cleary 40' x 60' barn with gravel floor, special lighting & tack room., two sets of double doors.
Shop: Metal roof and overhead door with wood burning stove.
Lawn Shed: Small curvette building.
Grain Bin—Storm Cellar—Wine Cellar—Misc Cattle & Storage Sheds
Other:
* 4 solar panels with submersible pumps on stock wells
* Custom built 5 barbed wire interior crossfencing and much of perimeter fencing
* 10' metal gates for pastures and some 4' metal gates for horse & rider
* Stocked fish pond north of home of approximately one acre and 10-12' deep
Carrying Capacity: 100-125 cows on year around basis with historical normal climatic conditions.
Ranch has 5 rangeland pastures for rotational grazing, two small pastures at head- quarters, two fenced meadows, 80 acres on south side of river and meadow at drive way which uses electrical fencing for seasonal grazing.
Livestock Water:
The ranch has a total of 8 wells with 2 windmills, 4 solar powered submersible pumps, and an electric submersible at headquarters with pipeline to 5 tank sites. An additional electric well is dedicated to the home. The meadow south of river has large flowing spring.
Taxes:
$9,176.48 ($6.12 per acre)
Offering Price:
$2,500,000
Richard Dawson
Owner, Broker
Office Phone:

800-785-2528
Mobile Phone:

308-325-0839
Email:

rdawson@agstarland.com
View Agent Profile
Disclaimer: Information on the sale property has been gathered from sources deemed reliable, but AgStar Land Brokers, LLC or agents thereof make no guarantees as to the accuracy. Buyers (or their agents) are expected to personally inspect the property, perform their own due diligence, and arrive at their own decisions as to purchase. Seller(s) reserve the right to refuse any or all offers submitted. All real estate agents not licensed with AgStar Land Brokers, LLC shall be agents of the Buyer.